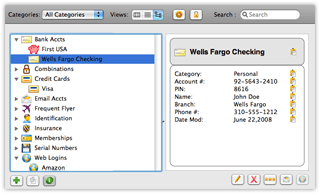 We are very proud to be finally releasing the SplashID 4 upgrade for Mac OS. Thanks to all those Mac users who were patient and waited for this release – it was well worth it I think.
Here is a list of enhancements:
New desktop views – Panel View and Tree View
Tree View on the handheld application
Enhanced security – auto lock-out after 10 failed attempts, password strength meter, and password hint option
Web Auto-Fill – one click to open a website in Safari and login automatically
Synchronize multiple SplashID databases (with other version 4 database files only)
Enhanced Lookup feature instantly displays relevant results as you type
Email securely encrypted SplashID files to other users (from the handheld application too!)
Add additional standalone desktop users
Change the database and auto-backup file locations
Toolbars give you button features where they are needed the most
Updated icon set with enhanced high resolution graphics
Fully Leopard compatible
Universal Binary
Note: Requires 10.4 or later
If you have installed a previous beta, you must export a backup of your data before installing the release:
File > Backup
Then quit and delete these files:
– Delete directory: ~/Documents/SplashID/
– Delete file: ~/Library/Preferences/com.splashdata.splashid.plist
Download the release:
SplashID Download Page

SplashID 4 Desktop will NOT pick up your SplashID 3 Palm database, but you should back up to be safe:
File > Backup
Once you have finished running the installer, launch SplashID from the Applications folder. It will no longer be in a sub-folder.
Since the Palm application WILL upgrade your database on the handheld, you will probably want to set the SplashID conduit to handheld overwrites desktop for the first sync after running it on the handheld.
SplashID 4 for Mac OS released