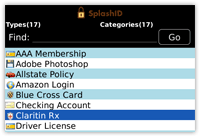 We fixed a bug that caused the following error on the handheld app:
Uncaught exception: java.lang.NullPointerException
We also changed the handheld file names to be a little friendlier. So if you install the update from 3.4, you will notice that when you go to the SplashID program folder to add the ALX file, you will find both SplashIDProj.alx and SplashID.alx. You should choose the latter.
Download the update below:
SplashID for BlackBerry update – 3.41