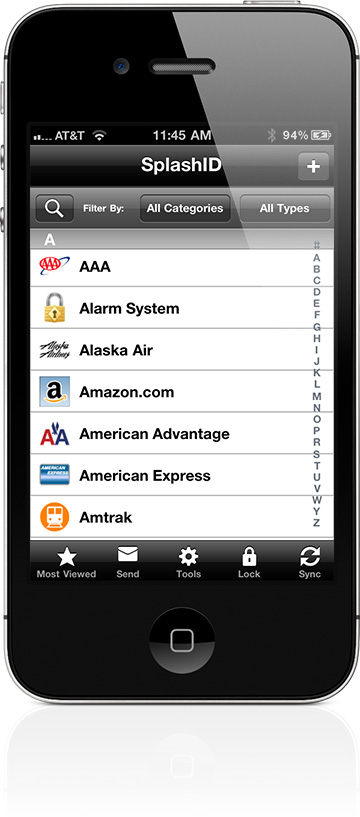 We are very proud of the most recent update to SplashID – version 4.5. Check out the new UI!
Check out the release notes:
Handheld Application

Updated for Firmware 2.1 update – you may wish to update to 2.1 if you have not already
New and improved User Interface:
No more drilling down – use filters instead
Alphabetical nav bar to the right side of the item list (like Contacts)
Email Record Details
Skip back and forward through records
Delete records from Record Info screen
Sync button on toolbar in record list
Landscape support & expanding field data when tapped
Notes field is larger
Number pad login option
Web View added – tap the globe button next to a URL to launch Web View, and the username and password are displayed at the top of the screen for easy logins
Last sync info added to Sync dialog
Optimized database loading so it loads twice as fast
All reported bugs fixed

Desktop Application

Item counters added to the Category and Type lists
Better sync progress indication
Default sync option added to sync preferences dialog
Support for many international alphabets – accented characters
Check for Updates feature added
All reported bugs fixed
Download the handheld update from the App Store and the desktop here.
SplashID 4.5 Released for iPhone